LOSS AND FOUND: Surviving the Loss of a Young Partner
$14.95 ($23.50 CAN)    ISBN: 0-9715092-0-4     Calabash Press, 272 pages
LOSS AND FOUND, written by
two nationally recognized support leaders.
An uplifting, detailed, and honest self-help book written from both the male and female point of view, by two nationally recognized support leaders, who both experienced the loss of their first spouse early in life.
The loss of a partner can be sad, maddening, confusing, enlightening, liberating, confining, sexy, sexless, frustrating, funny, supernatural, challenging.
Yes, loss can be a real mess.
Loss and Found is for over fifteen million people in this country who lost a partner before fifty, as well as friends, families and counselors who need tools and information about a personal, touchy, difficult subject.
Some issues are universal, but many are unique to a person still building a life. Rediscovering a positive outlook can turn some of the anguish into survival and even into opportunities.
People experience profound changes in behavior, life style, the attitude of friends, family politics, and health. The issues include: coping with illness, family conflicts, the death, the funeral, personal items, friends, hospitals, reclaiming personal identity, and support groups.
Loss and Found shows optimism and hope.
People who lose a partner, often feel that they are the only person in that situation and that they will never be happy.
Through patient healing, you can come back to a sense of yourself as a truly whole person, different than before, but whole, within a new context. You can be happy again. Your partner would be proud of you for winning your battle with survival.
Loss and Found is in two parts, from both the male and female point of view. Kathy is a storyteller and Gary analyzes in a running commentary. You will laugh and cry as Gary and Kathy, two real people with two distinct stories, put the pieces together, sometimes in the wrong order and sometimes right, learning along the way.
Gary and Kathy Young both lost young spouses at an age when people are not supposed to be thinking about such issues, such as illness and death, telling their young children, finding role models, nannies, dating, meeting the right mate, and committing to a different, but affirmative path.
Kathy and Gary Young met in a support group for young widows and widowers, became friends, dated, and married. Life with five children would not be easy, but they learned to preserve memories and lessons in their proper perspective.
Gary and Kathy have discussed grief and recover issues on the Home Show (ABC), the Dale Atkins Show on Family TV, the Marilyn Kagan Show (Disney) and appear on Between the Lines , Barry Kibrick's acclaimed in-depth, nationally syndicated review of major writers and their books. They have served as consultants for TV shows dealing with young widowhood issues. The TV movie, well, more about that later!
(see SCREENPLAYS: Interruptions)!
A workbook is available at no extra cost.
In use at Colleges throughout the doctoral level, but written clearly on the lay level. An authoritative source of information and support.
"A must-read for anyone experiencing loss. I've interviewed over 150 authors to date on my PBS series. I was astonished by this distinctive voice of experience. Gary and Kathy's wit, wisdom, passion, and insight guide us through a warm and lighthearted journey into love, loss, remorse, then to new love, in a seff-help guide to millions of young people facing loss. The light of hope illuminates the tragedy of loss, even finding humor in the recesses of depression." Barry Kibrick, BETWEEN THE LINES, PBS
"LOSS AND FOUND fills a void in the bereavement literature for young widows and widowers. The authors candidly, tastefully describe their lives and loss experiences from the moment they learned their spouses were terminal until their lives were joined as a blended family of seven." Judy Davidson, PhD., director, RENEW Center for Personal Recovery
The readers say:
"Such a moving and insightful aid! I particularly liked the truthful portrayal of both the male and female perspective."
"A great book. I couldn't put it down."
"Your sensitivity, humor and clarity answered many of my questions, some of which I did not even know I had."
"It was particularly interesting to me to see an honest picture of a man crying. This will help men who feel that it is wrong to cry."
"I laughed a lot at the dating experiences. During the roughest time of my life, the book was my therapy and inspiration."
"I laughed and cried and realized that I am normal, and I am not alone! I could relate to both of your experiences."
"It's only been eight months, but I have seen a change in myself and in my life and I owe thanks to you for part of it."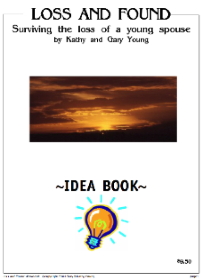 The updated 2nd Edition will be electronically available at no extra cost for anyone purchasing the first book.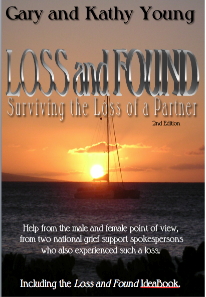 MediaKit for Loss and Found
For ordering information, please go to: http://griefandrecovery.com/book.html